Join Us for 9th Annual Explore Retirement Living Event!
The public is invited to Fairmount's Open House on Saturday, October 19, from 10 a.m.–4:00 p.m. The event is part of the 9th Annual Explore Retirement Living day, in which 18 local retirement homes participate. For Fairmount, this event will mark the unveiling of our new Wheat Ridge Apartments, a 45-unit building scheduled to open in November. You will have an opportunity to tour one cottage in addition to three new apartments in advance of move-in dates. Tours will begin in the Wheat Ridge Chapel at 333 Wheat Ridge Drive. Refreshments will be served and you will have a chance to meet the Marketing Team and learn of special discounts being introduced. To RSVP, please fill out the form below or call 717.354.1800.

\
In the News: August Hard Hat Tour
To get a "behind the scenes" glimpse of the August 13, 2019 Drop-in Hard Hat Tour, please click here: 
Wheat Ridge Apartments Project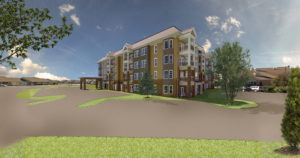 Paul Risk Construction began work on the new Wheat Ridge Apartment project July 24, 2018, launching a 4-story, 45-unit building in the space between the Wheat Ridge Personal Care building and the Home Messenger/Muddy Creek Farm Library (the site of Fairmount's annual Benefit Auctions). Most of the apartments have already been reserved. However, you still have time to secure an apartment. Please contact Mitchell at 717.354.1810 or mitchellh@FairmountHomes.org to arrange a personal meeting and learn more about the new apartments.
The building, designed by RLPS, offers 11 apartment floor plans, each with its own private patio or balcony. Sizes range from a 595-square-foot studio to a 1,422-square-foot, two-bedroom unit with two full bathrooms. Each apartment will have a patio or balcony, and common areas in the building will include a gathering room with a full kitchen, a dining room, library and wellness room. Storage areas will be available on the lower level. To learn more and follow construction progress, please click here.
Click here to see the April 2019 construction project update.