Jim and Esther Hodgkins
Moving to a retirement community usually involves some downsizing. However Jim and Esther Hodgkins actually expanded their living space this fall when they moved into their 1,464 square-foot, two-bedroom, two-bath Fairmount cottage. After a decade of "full-timing" in their 38-foot recreational vehicle, they once again have a permanent place to call home.
Jim and Esther have always traveled. "One of our daughters married a diplomat and moved all over the world. We went to see them wherever they lived," Esther explains. "The first place we visited was Beijing, China, and Tibet. Later we visited Japan, the most fascinating of our excursions."
Over their married life, the Hodgkins visited all 50 states (not always in their RV) as well as many countries. As "full timers" in their motor home for the past 10 years, they have been moving from one place to another every three or four weeks, except for winters which they spent in Mission, Texas.
Jim and Esther both enjoyed fulfilling careers. In 1958 Esther earned her LPN license and Jim fulfilled his dream of securing his 1st class operator's license to work in a radio station. Esther was a nurse for many years at Community Hospital in Reading. Jim spent his entire career as a broadcast engineer, working for the same radio station in Reading for 30 years before retiring in 1993. "It was never work for me—it was fun!" he declares.
On the side, Jim had his own studio where he made vinyl records, cassettes and CDs, and in addition he ran his own photography business. In 2005, he gave up his studio to go on the road, but he still enjoys photography and carries a camera wherever they travel.
So what made them decide to settle down now? Esther ponders for a moment. "I'm getting tired of moving around," she says finally. "And our daughters really wanted us to have a place we could call home."
Asked why they selected Fairmount, Jim answers first. "We qualified for another nearby retirement home, too, but our values more closely align with Fairmount's values."
Family connections are another factor, as Esther explains. "My mother was a Fairmount resident many years ago. She always got good care, and when I came to visit, I thought, 'I could live here.' Mother's sister also lived and worked at Fairmount for many years. Plus we have friends here, and our daughter lives nearby."
The Hodgkins are excited about their move. Esther says, "One of the things I'm really looking forward to is being able to go to the same church every Sunday. As we traveled we had to find a church in each new location. Also, after we are settled in at Fairmount, I would like to volunteer in some capacity working directly with residents."
Jim is also eager to find a church, but he has a different idea for volunteering. "I have thousands of great pictures from all over the world," he remarks. I hope there will be opportunities to share travelogues with new Fairmount friends."
Wilmer and Gladys Martin
Wilmer and Gladys Martin are convinced they have the best cottage in the best location on campus. "We had our name on the waiting list, and were called many times before we came," says Wilmer. "But when we saw the location of the new cottages being built, we were convinced the time was right.
They have not regretted their decision for a minute. What do they like best about their new cottage? They appreciate so many features that choosing one is difficult.
Wilmer responds first, "The best thing is having a new house—we never had a new house before. For all of our married lives, we lived in a house built in 1937—not real old, but there was a lot of upkeep. It is wonderful to now be free of home maintenance."
Given the severity of their first winter at Fairmount, their move could not have been timed better. "I counted 14 occasions the maintenance crew cleared our driveway that winter," Gladys remembers. "They plowed the driveway, shoveled the sidewalks, and even swept off our front porch several times."
But then, maybe the best aspect of their new cottage is just how much room they have. Gladys explains, "There is more counter and cabinet space in our kitchen than we ever had in our old place. There is even space in the kitchen pantry for the 50-plus jars of tomato juice we canned this summer. Also, I have plenty of room in the second bedroom for quilting. I quilt for a local shop and almost always have a quilt in a frame."
Perhaps their favorite feature is the sunroom, where they spend so much of their time. From there they can see for miles across the valley on a clear day. Wilmer and Gladys appreciate the privacy of their location on campus. Their home is in a small community of five cottages on a cul-de-sac, but still accessible to all of the community amenities and activities. "When I get tired of working, I can go to the library to find a good book or read the newspaper," Wilmer adds. "Or I can visit with my sister, cousins, or other family members and friends who live here."
Eventually Wilmer and Gladys agree that the two-car garage tops all the other benefits of their new home. For the first time in their lives, they can just pull into their garage and unload groceries without worrying about inclement weather. And by keeping just one of the cars inside, Wilmer has room for a wood shop, where he makes shelves, corner cabinets, and podiums upon request for a local business.
From their Fairmount cottage, the Martins can maintain the same active lifestyle they enjoyed in their former home. Wilmer and Gladys still work as needed at a local restaurant, and Gladys volunteers in several capacities at Fairmount. They both enjoy gardening, as evidenced by lovely flower beds in front of their cottage, and the tomato plants that produced such an abundant harvest this summer. Now they have plenty of time for everything they like to do, rather than spending time on what they need to do.
Irvin & Janet Wenger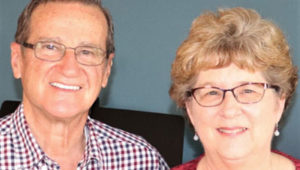 Retirement for some is the time of life to sit back and enjoy a life of leisure. However, for many Fairmount residents, it provides the freedom to explore new hobbies, build deeper relationships, and continue serving and giving back.
Janet and Irvin Wenger carefully planned their retirement for the beginning of 2020. After diligent research, a lot of number-crunching, and discovering the availability of an apartment with the layout and view they wanted, they chose Fairmount to be their new home. They loved that several friends live at Fairmount, it is close to where they grew up, and one of their three children lives nearby. As per their plan, the Wengers sold their house in Guatemala where they had lived since 1980 and gave up their teaching and leadership positions— Janet taught music and Irvin taught ministry courses at the Central American Theological Seminary; they were both heads of their departments. Irvin agreed to continue serving as treasurer for FAM, a Latin American mission agency. They looked forward to life without the burdens of home maintenance and the demands of full-time work. Their plans were to relax and reconnect with friends and family. They packed their belongings, booked flights, and stepped into retirement at Fairmount.
Then their lives took an unexpected turn. As the pandemic forced school programs to move online, Janet's successor in Guatemala found it difficult to take on all of the classes Janet had been
teaching. Janet was called back to the mission field, teaching one of the classes via a modified Zoom platform. She gladly agreed, knowing she was able to contribute to the lives of students thousands of miles from their new Fairmount home. "Teaching has certainly changed my expectations for retirement—I never thought I would be a music instructor again, so I left all my notes and course material behind," Janet exclaims. "I had to create lesson plans from scratch! But we love that we can continue to give back and invest in the lives of others." In addition to his role as treasurer for FAM, Irvin also agreed to teach a three-month, crosscultural online ministry course at the Seminary, and to serve as a thesis advisor. They both agree, "Our lives are happy and fulfilled as we continue with our mission, just not exactly as planned.
Bill & Evelyn Sloat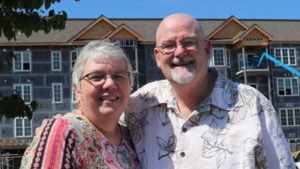 At just 65 years young, Bill and Evelyn Sloat decided to make the leap and join the Fairmount family in November when their new Wheat Ridge apartment was finished. While many couples who are decades older do not feel they are ready to move, Bill and Evelyn had lots of good reasons to embrace retirement living at their young age. They explain, "We want to clean out now, and make the move, so no one will have to make decisions for us. We have no children, and our nieces and nephews are getting older. We don't want to be a burden to them."
The Sloats grew up near Elizabethtown, went to high school together, and married 45 years ago. After graduating from Elizabethtown College, Bill went to seminary, then later earned a PhD in church history at Drew University in New Jersey. Most of their lives were devoted to church work. Over almost 40 years, Bill served as a pastor for five different Churches of God General Conference churches. They lived in many places, from Harrisburg, PA, to Findlay, OH, before settling into their former home near Bowmansville 21 years ago.
Evelyn held various administrative positions in their church conference and for Daikon Lutheran Services. She was also a great supporter of Bill's efforts, saying, "I took some courses, but didn't get a college degree. However, I got a great education by typing, proofreading and editing all of Bill's papers!"
Six years ago, Bill stepped away from his lifetime of being a pastor to "go into the world to minister." At Weaver Markets in Adamstown he worked his way up to manager, while Evelyn did office and bookkeeping work for local companies. They both continue to work.
Through work contacts, the Sloats heard about Fairmount and decided to take a look. They had watched Bill's parents go through the continuing care model of retirement, and saw how well it worked for them. And when they visited Fairmount, they were impressed. "We were amazed by the quality of accommodations, and the size of what we can get here for the cost. We loved Mitch and loved the facility with its values, ethos, and community feel," they explained.
The new Wheat Ridge Apartments appealed to them for many reasons. With a November move-in date, they had an opportunity to downsize over time and ready their house for sale without rushing. "We especially like that the new apartments connect to the existing Wheat Ridge building," Bill comments. "If one of us has to move into another level of care, we can still be close to each other."
"We didn't like the in-between phase," Evelyn admits. "There were so many decisions to make, things to part with, and a lot of extra work. But we look forward to the time when we can relax and read, spend time with friends and family, and maybe even do a little traveling. We consider ourselves young. We are coming here to live many full years!"
Byron and Ann Zimmerman
When Byron and Ann Zimmerman moved to Fairmount Homes, they settled close to their roots. Both were born and raised in Lancaster County, and moved to Leola a few years after their marriage. They started out farming, but soon decided to learn the insurance business instead. Both became insurance agents and brokers and built a business over the years that afforded them many opportunities. They especially enjoyed traveling, and went by plane, sailboat, motor boat, biking or RV, all over the world. Their travels included Switzerland, Laborador, Alaska, Spain and Morocco, to name a few.
On their 60th anniversary, Byron and Ann Zimmerman decided it was time to investigate retirement homes. After researching, attending open houses, and consulting with their children, they put their names in at two places. Ann also spent time volunteering in order to learn more about Fairmount and become familiar with the environment.  When the call came offering them an apartment at Fairmount, they readily accepted. Their new home has a great view to the south—overlooking the area they called home for most of their married lives.
Both of them stay busy, still going in to the office at least one day a week. Byron also drives an Amish family to market in Harrisburg, leaving at 4:30 a.m. every Saturday morning, and returning around 6:30 p.m.  He teaches a Sunday School class at their church, and for recreation loves to ride his bicycle on Lancaster County's back roads.
Ann learned to weave and became quite expert. Her loom is set up in their second bedroom where she creates beautiful items that she sells at craft shows or donates to Fairmount's Benefit Auction and the Lancaster Mennonite School Silent Auction. She continues to volunteer at Fairmount, visiting with residents in Health Care who have become her friends over the years.
Byron and Ann are happy and content with their decision to join the Fairmount family. "I feel at home here," Ann muses. "I love the simplicity!"
Don and Dorcas Hostetter
When Don and Dorcas Hostetter first received a call a few years ago offering them a Fairmount cottage, they declined, even though their name had been on the waiting list for some time. "We weren't ready then," explains Don. "It is hard to leave a beautiful home you built yourself and an area you lived in all your life. So we said 'no' and remained on the waiting list."
But when Fairmount announced plans for six spacious new cottages, several with two-car garages, the Hostetters both agreed that they were ready, Friends were surprised by the Hostetters' decision. They are younger and more socially active than some couples going into retirement communities. Don, a registered Holstein breeder for most of his life, was still involved in his business. But they explained, "A lot of people don't want to talk about the future as they age. We have seen many instances where people postpone a move until their health fails. Then the families have to make all the decisions and pick up the pieces. We don't want to do that to our children."
Although they are still young and energetic, the Hostetters are aware that health situations crop up more frequently with age. "My doctor told me that it would be a good idea to slow down a bit. When I move here, I won't have to mow the lawn or push the snow. When something breaks, someone else can fix it," Don chuckles.
Dorcas adds, "We want to move while we're healthy and can volunteer and enjoy an active life. I have a lot of flowerbeds at my home, and I want to be able to step outside the door of my own cottage and plant flowers here too. Living on a farm, we were always busy, and we have a lot of friends. We want to continue that lifestyle here."
The Hostetters considered Fairmount for many reasons: "Before I do anything, I research well," Don says. "When we decided to make this move, we investigated six different retirement homes. We have friends in quite a few of them, and some were very impressive. But when we really thought about it, one of the most important considerations was the quality of health care. Other places have good care also, but friends who have been residents here have never reported anything but excellent care. That is the kind of care I want my wife to have if she ever needs it."
There are plenty of other factors that appeal to the Hostetters: They will be closer to three of their five children who live in the Lancaster area. They found the prices reasonable, especially the monthly maintenance fees. And the hilltop setting is perfect for them. Coming from a farm, they love seeing the farmland spread out below.
Gail & Carole Sensenig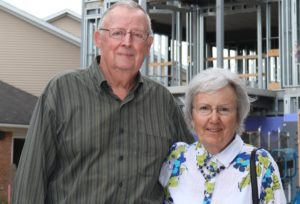 What did Gail and Carole Sensenig most anticipate when contemplating their move to a new Wheat Ridge apartment? "The freedom to just lock the door behind us and leave on a vacation or hunting trip without worrying about home responsibilities," replies Gail without hesitation.
The Sensenigs came from a nearby home they built 35 years ago on a picturesque farm that has been in Gail's family since 1749. Their son and his family also live on the property in the house Gail's parents once occupied. People asked them why they would ever leave their farm. "I told them that while it was a change, our philosophy is to not wait. It is better to move two years too early than one year too late," Gail explains.
The Sensenigs describe friends who put off a decision to move: "One of them fell ill, and they had to relocate quickly. Unfortunately,  there was no available space at their first choice of a retirement community, and they had to accept a less desirable alternative. We want to choose now so that we can be where we want to be down the road."
 Fairmount is the only place the Sensenigs ever considered for retirement; they had their names on the waiting list for five years. Learning about the new Wheat Ridge Apartment project gave them the incentive to act promptly, and they were delighted to secure a  4th floor corner apartment overlooking beautiful farmland. "We feel like Fairmount is almost like family and it fits our lifestyle better than many other places," Carole reflects.
Their own family played a primary role in their decision. Over the years, numerous aunts, uncles, and cousins have made Fairmount home. Two of Gail's sisters moved into Fairmount's Crest View Apartment building when it first opened in 2005, and one is still a Fairmount resident in Skilled Nursing. Because the new Wheat Ridge Apartment building is connected to Personal Care and Health Care, the Sensenigs are able to visit there without having to go outside in inclement weather. This is important to them, for if one eventually needs a higher level of care, they want the other to be able to visit conveniently.
What else do the Sensenigs enjoy about living at Fairmount? As they are both very active and love the outdoors, they can be found taking in the view from one of Fairmount's walking trails. Visiting long-time friends, making new friends, and continuing current activities are also high on their list. For Carole, that means crocheting, knotting comforters, and quilting regularly at the Akron Church of the Brethren where they attend. For Gail, it means volunteering with Christian Aid Ministries and with a local drug and alcohol rehab ministry—that is, when he is not hunting in Lycoming County!
Doug & Toni Hoey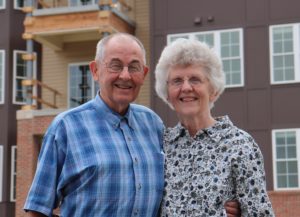 New Wheat Ridge Apartment residents Doug and Toni Hoey have unique life stories. In 1960, Doug accepted a job in administration with the FBI and moved to the Washington D.C. area.  There he also volunteered as unofficial chaplain with Boy's Village and attended Washington Bible College. Three years later, he married Toni. In 1968, Doug felt called by God to work in a prison ministry. "We had two children, and there was no funding—we had to raise our own support in order to get paid," Doug recalls. Toni was completely supportive. "We pinched pennies and lived sparingly, but God met our needs," she reminisces.
As the prison work grew, Doug began traveling all over the country to start new prison ministries and train chaplains. It was a career he loved and continued until 2001 when health challenges loomed. He then settled into a chaplaincy position in York County prison. After retirement in 2013, he continued visiting prisoners as a volunteer until this past September.
Unlike many Fairmount residents, neither Doug nor Toni is a Lancaster County native. Born to missionary parents, Toni split her childhood years between Nigeria and Connecticut. Doug hailed from New Jersey. They moved to Lancaster County 26 years ago, buying a home on a quiet street with great neighbors near Marietta. Also unlike many incoming residents, the Hoeys are not joining friends or family now living at Fairmount. "We don't know one soul who lives here," they admit, although they began to get acquainted with their future neighbors at informational meetings held throughout the building process.
However, the Hoeys had witnessed firsthand the compassionate care Doug's father received as a Fairmount Health Care resident from 2002 until his passing in 2005.  "The staff took care of my father like they would take care of their own fathers," Doug reflects. "We knew then that when the time came to move from our home, Fairmount would be a great option." Still, the Hoeys looked around before deciding.
According to Marketing Director Mitchell Hanna, the top reasons people are drawn to Fairmount are its values, value, and view. It is a sentiment echoed by the Hoeys as they describe the process of choosing their new home. Doug says, "We liked the feedback we got from current residents. Their assurances that Fairmount lives up to its stated values convinced us that we would be much more in sync with our neighbors here than at other retirement homes."
Toni explains further, "We toured a number of different places during the annual Explore Retirement Living events and visited the homes of friends in various retirement communities. Of all the places we checked, Fairmount offered the best value.  Here we aren't paying for amenities we won't use; we are paying for the benefits of no longer having to shovel snow, cut grass, or climb ladders!"
Like most of the incoming Wheat Ridge Apartment residents, the Hoeys found one of their greatest challenges was getting rid of "unnecessary stuff" as they prepared for their upcoming move. "We had three stories of our house to clear out, and we're collectors," Doug chuckles. "We were having a hard time getting rid of things. But we didn't want to store them, we didn't have the room for everything, despite the spaciousness of our new apartment, and we were not keeping anything we couldn't move to Fairmount!"
Now that they are past the move, Doug and Toni both enjoy a favorite activity—walking—on Fairmount's nature trails, while enjoying the spectacular views of Lancaster County farmland.
Irvin and Edith Leaman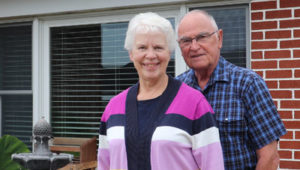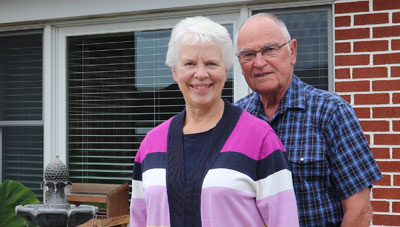 Irvin and Edith Leaman both grew up in eastern PA: Edith in the Fleetwood area and Irvin in Bowmansville. They met while serving on church leadership committees, married in 1969 and later built a house near Bowmansville that was home for 44 years prior to their move to Fairmount. Irvin worked as an installer (and whatever else was needed) at Rutt Kitchens for a total of 45 years, while Edith worked as a nurse in various positions over the years after their four children were in school.
Throughout the years, church work was an important part of their lives. Their involvement took them on mission trips to Russia, Tanzania, and Ghana multiple times, anywhere from two weeks to two months at a time. In the past, they served as leaders of a care pastor team at Petra Church in New Holland where they currently attend. Edith also helps to write lesson plans and tests for students taking Bible classes in foreign countries.
When the Leamans heard about the new Wheat Ridge Apartments project, they decided it was time to make the move. However, as they explained, "Apartment living was our 'Plan B.' Shortly after we made plans to move into a new apartment, a cottage became available, which was exactly what we wanted, and we moved in a year ago in July."
Irvin and Edith could not be happier with their decision. Here they have time for their avid bird-watching hobby, with excursions to Middle Creek or the Blue Ridge Parkway, in addition to watching birds come to feeders around their cottage. They can spend time with their four children and nine grandchildren, most of who live in the local area.
Retiring at Fairmount was always one of their retirement possibilities, as Irvin's father and both of Edith's parents were Fairmount residents, and Edith worked as a nurse in Health Care at Wheat Ridge for 10 years before retiring. "I know the quality of care here," she says. "One of the CNAs I worked with said she liked to give care as though taking care of her grandparents."
The Leamans look forward to spending many years here. They are already plugging into Fairmount life, socializing and volunteering, while still enjoying the relationships built over the years with their family, friends, and church.
Jay & Mary Edna Martin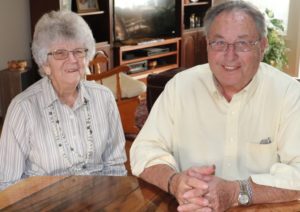 For anyone entering the new Wheat Ridge Apartments main entrance, the first thing that will catch their eye is the beautiful live-edge rustic table just inside the lobby door. Built with English walnut and cedar slabs, and mounted on a huge root, it is the creation of cottage resident Jay Martin, made from the wood of trees on the Fairmount property that had been removed for new construction.
Jay and his wife, Mary Edna, both grew up in the local area, met through the Weaverland Mennonite Church youth group, and married at 20 years old. In their first year of marriage, they lived in an apartment while building their first home in Goodville. Jay worked in the construction business, so they could do everything themselves except the plumbing, plastering and bricklaying. The house they built became their home for 30 years, and it was where they raised their two sons.
In 1987, the Martins bought a six-acre farm, built a new home, and raised alpacas. They lived in their new home until 2013, when they moved to Fairmount. One of the features most attractive to them was the walk-out basement—a perfect location for a wood shop, where Jay could pursue his lifelong love of woodworking. Here he has concentrated his efforts on beautiful pieces of specialty furniture, especially live-edge rustic tables, many of which are used throughout their own home. But one of his most valued pieces is the harp he built for Mary Edna that sits in their sun room overlooking the countryside below.
Mary Edna learned to play piano when she was 15 years old. For 55 years, she gave piano lessons in their home (wherever that was), until retiring just last year.  She learned to play the harp when they lived at the farm, and loves playing it for her own enjoyment. Jay and Mary Edna are very happy with their Fairmount cottage. Jay comments, "We appreciate that everyone here was so easy to work with and that we have space to pursue the activities we love whenever we want, in the comfort of our own home."
Ruth Wanner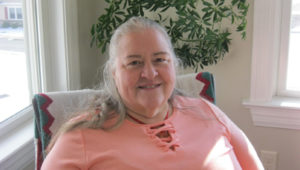 Ruth Wanner could not be happier with her decision to move to Fairmount. Although she had her name on the wait list, she did not think she would get a call as soon as she did. She is younger than most people living in retirement homes, and still works her job as an operating room nurse at the hospital where she has worked for 40 years. Her home of 34 years was on the end of a nice quiet dead-end street. She hadn't anticipated leaving it at this stage of live, and wondered if living in a community with other people so close would feel overwhelming. However, when she got the call in March that there were two cottages available, she decided there was no harm in looking. And one of the cottages proved to be everything she wanted and more, including a beautiful sun room on the south side of campus overlooking miles of farmland! "I liked the cottage so much that I was afraid I might not find another one I liked as much," Ruth shares.
After going immediately to seek the advice of a friend who lives here, Ruth decided to make the move, and by June she was part of the Fairmount family. "I wanted to make the move while I could do it herself, especially since I have no children to take care of me. It feels good to be in place and not have to think of moving somewhere later on in my life."
Ruth grew up in Churchtown, and later moved to the Plowville area where she and her husband lived for 29 years until his passing five years ago. Many friends and relatives, including her mother, all live close by, and she has made many more friends at Fairmount as well. She is already finding new activities to enjoy with her new friends, while continuing to pursue her hobbies of many years: counted cross stitching, reading, and traveling with friends.
Paul and Elsie Beiler
Paul and Elsie Beiler moved to a new Fairmount cottage in December of 2016 from Nickel Mines, Pennsylvania, where they had lived since 1962. There Paul ran his own crop spraying business. Elsie felt she was fortunate to work at home and help Paul in the office while they raised their five children. As Elsie neared 60 years of age, her passion for painting became a major part of their lives, especially after producing a series of five Nickel Mines paintings that touched on the tragedy that unfolded there. Her paintings were displayed and sold at a local gallery. After Paul retired from crop spraying in 2004, he started a taxi service and also helped with the business side of Elsie's artistic endeavors.
When the time came to plan for retirement, Paul and Elsie attended several open houses at retirement homes. However, Fairmount was their first choice. It was a familiar place; several relatives had lived here and Elsie's parents both spent time in Fairmount's rehab. They appreciated the excellent care their family had received. As they contemplated a move, their children were very encouraging. They all felt it was a good idea to get where you want to be while you are both healthy enough to help each other with the move.
Paul and Elsie have been very happy with life at Fairmount. Not only have they made friends with their neighbors, but they have remained active in their church, although it is 18 miles away. Their cottage has plenty of space to entertain friends and family. Elsie continues to paint, and they are grateful for a two-car garage, part of which serves as needed storage space for finished  artwork and supplies. Paul continues to help with the business end of the art venture.
In the meantime, both find time to plug into life at Fairmount. Elsie has held several well-attended art shows. Paul goes to coffee hour once a week and helps out as a volunteer as needed. They both conclude, "We are happy here and haven't looked back with any regrets."
Charlie and Joyce Martin
In 2014, Charlie and Joyce Martin retired and moved to Fairmount Homes—a logical choice given that Joyce's parents had also lived here when the apartments first opened, and that they were both born and raised in the local area. Except for a year in Puerto Rico, they lived, worked, and raised their four children not too from their New Holland origins.
The Martins started their married lives on a farm. After 10 years of farming, Charlie started working as a cabinet-maker, and Joyce started a bridal shop, selling bridal gowns and doing alterations. Later they became full-time youth leaders for their church.
Charlie and Joyce brought a unique experience to Fairmount. They had begun raising Seeing Eye puppies in 2002, teaching the young puppies simple commands and taking them everywhere they went for the first year of their lives to socialize them. For the Martins, the rewards were tremendous, especially when they were invited to see "their" puppies trained as service dogs that enabled blind people to live independent fulfilling lives. As they contemplated retirement, the Martins decided not to take new puppies, but to offer respite care for trainers on vacation who could not take the puppies with them. This arrangement allows Charlie and Joyce to travel freely and enjoy their retirement without being tied down.
How did this fit into their new Fairmount Homes apartment living situation? They discussed the idea with Fairmount's administrative staff, and got the go-ahead to give it a try. Since then, the sight of Joyce with a puppy in training has become a familiar one. It has worked out very well, and they are delighted to continue serving the larger community from their new home.
As for Charlie, he stays busy in Fairmount's wood shop building furniture for non-profits, including ReUzit and Fairmount. He recently constructed a beautiful shelving unit to hold all of the resident charts for one of the neighborhoods in Fairmount's nursing area, as well as a much-needed bookshelf for Fairmount's Country Cupboard in the Wheat Ridge lobby. Certainly they did not slow down, but simply began living their lives from a new location where, incidentally, from their living room window they can see their former home and beyond!
Ephraim and Mabel Hernley
In 2013, when Ephraim and Mabel Hernley were researching continuing care retirement communities, they read in the Perspective that one new cottage was still available. They had checked out plenty of other retirement homes, and none felt exactly right. But they decided to take a look at Fairmount. When they saw the view from that new cottage, they knew they had found their home.
"I could live here!" Mabel remembers exclaiming as she stood in the kitchen overlooking miles of farmland below.
The Hernleys' primary concern was the availability of health care. A health scare had pushed them to ask, "If we need care, what will we do?" For them, the answer was to seek a continuing-care retirement home where, if needed, they could receive excellent health care.
They realized also that to build a good social network, they should move while they were still relatively young. "Don't wait until you have to go," Ephraim says. "Relocate early in you retirement years and make friends. Then later when you especially need it, you will have the support of people you know. When we first came here, we joined other cottage and apartment residents for coffee hour every morning, attended a variety of activities, and soon learned to know a lot of people."
Another priority for the Hernleys was to stay active. Ephraim declares emphatically, "We're retired, but we aren't going to sit around!"
True to their word, they have found plenty to do. Prior to their move, they made a special request to bring with them some of their berry bushes, so a typical summer day finds them picking blueberries, boysenberries or blackberries from the hardy bushes back of their cottage, or strawberries in the raised bed Ephraim built behind the deck. The peppers, tomatoes, onions, potatoes and zucchini produce almost enough to get them through the winter.
There are many additional outlets for the Hernleys' varied interests. They both sing in the Fairmount Chorus and serve on the Residential Living Activity Committee. Ephraim also sings in a Fairmount men's quartet and makes coffee for coffee hour one morning a week. Mabel helps to manage the Farm Crest Gift Shop, making good use of her many years of experience as a buyer and head cashier for a Christian bookstore. The couple could not be happier with their decision to enjoy Fairmount living.
Ezra and Elizabeth Bell Stoltzfus
On October 23, 2010, apartment resident Elizabeth Bell married Ezra Stoltzfus of Kinzers, PA, in the Farm Crest Community Room chapel. It was the first time in Fairmount history for a resident to be married on campus.
Elizabeth had first explored retirement options in 2004 shortly after the death of her first husband. Her criteria were clear. 'I wanted to live in Lancaster County close to my siblings. I wanted to find a retirement home where I would be safe, be able to serve and become part of a community. And I wanted to keep working,' she explains.
For Elizabeth, the deciding factor occurred during her Admissions interview when she asked, 'If I live at Fairmount, would I be able to work here as well?'
The Admissions Director responded by making a call, then escorting her to the Director of Nursing. She filled out an employment application that day and began working as a nurse in Health Care two weeks later. A year after that, she moved into her brand new Crest View apartment. What Elizabeth had not anticipated then was that she would remarry. 'You are amazed that you can love again!' she exclaims. "Over the last couple of weeks I realized that we are entering into a new season of our lives."
As Elizabeth and Ezra exchanged vows on October 23rd, the presence of their many Fairmount friends, both neighbors and staff, made it an extra special celebration. What a wonderful example of Fairmount's new tagline, 'Dedicated to Faith, Family and Community!'