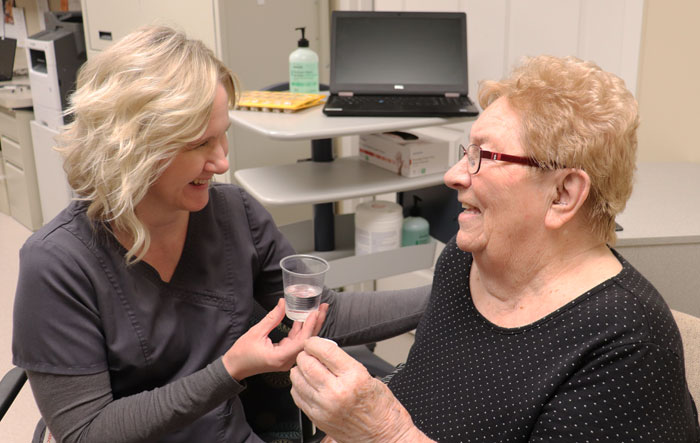 At the heart of Fairmount's mission is to enrich the lives of those we serve.  As we are in the midst of an unprecedented season, where viruses such as Influenza and COVID-19 (Coronavirus) can radically spread out of control and grow exponentially, Fairmount is actively taking vigilant measures to keep our residents and team members healthy and safe.
Some of these preemptive actions may be uncomfortable in the short term, but we pray, will fully protect us from having any virus enter our halls.
To that end, we are suspending all visitations to our Wheat Ridge Health Care, Wheat Ridge Personal Care and Farm Crest Personal Care Centers. Certain essential visits to loved ones facing end-of-life conditions may be permitted as long as visitors do not have flu-like symptoms and have not traveled to an area where community-based spread of COVID-19 is occurring. These visitors will need to complete a screening when entering our buildings. These are necessary steps for the safety and well-being of all parties involved.
Additionally, our Fairmount team members are assessed daily to determine their wellness and if they could potentially pose a risk of introducing a virus into our supportive living neighborhoods.
Our leadership team continues to meet daily to assess the situation, monitor the outside state of affairs that affect our community, and implement strategies that will keep our residents and team safe.
Please visit our website regularly to stay up-to-date on recent changes, cancellations, and additional efforts to promote safety  at Fairmount.
Update March 16, 2020 | 3:30 pm
Fairmount is taking precautions, in keeping with Centers for Disease Control and the Department of Health guidelines regarding COVID-19 (Coronavirus), to keep residents and team members as safe as possible.  Therefore, until further notice, beginning on March 17 at 7:00 a.m., Fairmount is no longer permitting visitors into our Residential Living level of care.  Residential Living includes the apartments and common areas of the Wheat Ridge Apartment Building, Crest View Apartment Building, Farm Crest Apartments and all of our cottages.  This means family members will not be allowed on campus, although end-of-life situations will be addressed individually.  All approved visitors will be screened for respiratory signs or symptoms and temperature screenings upon entry.
If you have personal items that you'd like to drop off for your family member or loved one, please do so in the apartment building lobbies or cottage doorway.  We are encouraging visitors to not enter our buildings.
Fairmount team members, vendors and contractors will be screened for symptoms and temperatures upon entering our buildings, as well.
Stay Informed – Stay Healthy!
We recommend following CDC guidelines by taking the following steps to stay healthy and help prevent the spread of the virus by visiting CDC.gov.